I'm back with Part Two of the round-up of Simple and in Season. Did you know you can fry lettuce in breadcrumbs and make it into a schnitzel? Scroll down to see how!
Simple and in Season September is being hosted by Katie Bryson at Feeding Boys and a Firefighter.
You can find a round up of Part One entries 1-22 here!
23. We had quite a few wonderful Italian entries, and this one is very special, too. I adore courgette flowers, but they are so difficult to find here in the UK. Alida at My Little Italian Kitchen made Fried Courgette Flowers with Sage  – perfect for a late summer aperitive!
Courgette flowers before and after!
24. Archana from baking blog Tangy Minds made this Blueberry Loaf with Glazed Lemon including lots of step-by-step photos.
25. Busy-mum Michelle from Utterly Scrummy sent across this delicious-looking Quick and Easy Peach and Raspberry Tart.
26. Choclette at Chocolate Log Blog made Raspberry and White Chocolate Friands – a perfect combination in my book!
27. Ros, The More Than Occasional Baker came back to us with this tasty Nectarine and Summer Berry Tart.
28. Jane over at Onions and Paper used Mark's abundant crop of home-grown tomatoes to produce lots of tasty Fresh Tomato Sauce – perfect for pasta.  
29.  Nic, a music and food-loving teenager who blogs at Nic's Feasts and Treats joined in with her Strawberry Pavlova – welcome Nic and thank you for choosing Simple and in Season as your first blog event!
30.  The Paricash Kitchen, an Indian Vegetarian blog sent across a Twist in Butterscotch Banana Cake – which sounds lovely and intriguing!
31. Mel from Edible Things made Courgette Spaghetti – with her glut of courgettes. A super-healthy supper!
32. I linked up my Watermelon, Peach, Feta and Za'atar Salad – inspired by Bulgarian chef Silvena Rowe.
33. Jagruti's Cooking Odyssey sent over these Savoury Marrow Pancakes – an unusual use of marrow (from a neighbour) and a lovely idea.
34. This beautiful entry by Nazima at Working London Mummy is a delicate Nectarine, Orange Flower and Almond Filo Tart. Made with "nectarines in an almond frangipane encased within filo pastry, scattered with pistachios and almonds" and inspired by Eric Lanlard.
35. Paricash Kitchen join in again with a Spiced Green  Pumpkin side-dish called Chapata Sitafal – full of lovely Indian flavours and spices.
 36. And again, from the busy Paricash Kitchen, these delightful Banana Fritters – a Southern Indian delicacy.
37. And one more entry from the Paricash Kitchen, Baby Corn Pakoda
38. Also inspired by the return of The Great British Bake Off, Michelle from Utterly Scrummy made this Peach Upside Down Cake – what a lovely golden colour!
39. A new vegetable for me! The Paricash Kitchen shows us what to do with an Arbi or Colocasia with this Chatpati Arbi/Spicy Colocasia dish. It's a root vegetable that behaves like a potato, don't you know?!
40. Ahh, next the lovely Jayne at Made by Jayne sent us her Courgette/Zucchini Bread (that's really cake) – looks yummy Jayne, thank you!
41. More seasonal zucchini from the garden, this time Zucchini Oat Bread from Dancing Veggies.
42. Foodies Garden (a lovely blog) made a really unusual recipe – Fried Garden Lettuce with Remoulade – almost like a vegetarian schnitzel! Who knew lettuce could be fried?! Looks yummy.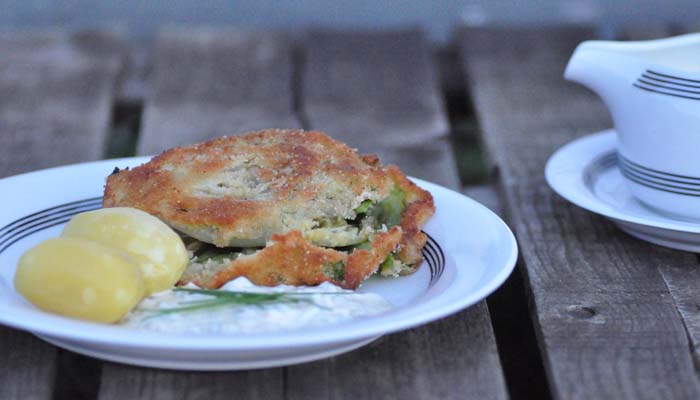 43. And last, but by no means least, Janet from The Taste Space, one of my favourite veggie blogs linked up her Tahini-Dressed Zucchini and Green Bean Salad – which I'm making tonight as I love tahini!
And that's all from Simple and in Season August
Tell me which entry you liked the most.
Thank you to all who joined in this month!