So here we have Part Two of the September Simple and in Season entries and we really were spoilt for choice when it came to this month's 'sweet' seasonal offerings. Part One (Savoury) was rounded up here. 
Firstly, I'm so pleased to announce that our winner this month is Urvashi from The Botanical Baker. You may recognise Urvashi as she was recently a contestant in The Great British Bake Off.  She did brilliantly well, adding some really interesting ingredients to her baking. Urvashi's blog is inspired by her love of baking and flowers, particularly their nutritional values and Urvash's bright and clever entry this month really brought a smile to my face. Take a peek at Urvash's post to see how she made a damson compote (with fresh damsons, soft brown sugar and cinnamon) and folded this into a cake mixture which involved ground almonds and polenta. As if that isn't wonderful enough, the cake was then drizzled with Damson Vodka…I promise, the vodka wasn't the reason this entry won!
Anyway, congratulations to Urvashi who wins this month – I'll be in touch to arrange your prize.
Onwards, there were some truly delicious creations on offer this month, most of which should inspire you to get baking as it's National Baking Week!
Marie from The English Kitchen made The World's Best Crumble – tweaking a recipe in Delicious Magazine to make it even better!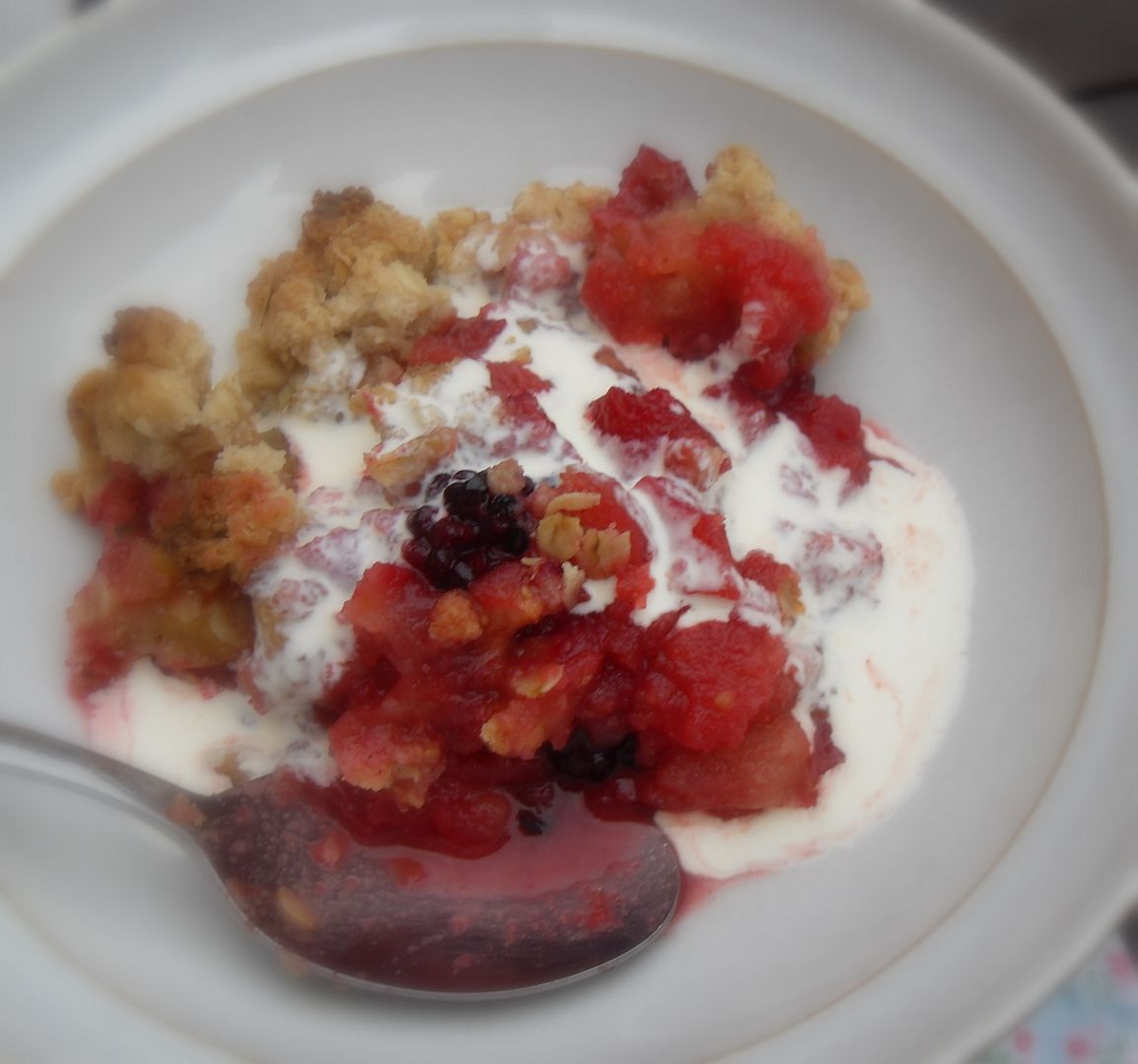 The very busy Sarah from Maison Cupcake somehow found the time to make and enter these beautiful Mini Fig Galettes – thank you!
Karen from Lavender and Lovage opted for savoury and sweet recipes this month and entered this wonderful recipe for a High Dumpsy Dearie Traditional English Fruit Jam – fabulous colour, Darlink! (Karen's top phrase!)
Karen also made Michaelmas Dumplings with Blackberries for the start of autumn.
As well as this absolutely stunning Baked Quince Compote with Vanilla – thank you Karen.
Sally from my favourite blog over in Dubai called My Custard Pie told us all about Pomegranate Season with some stunning photography, tops tips for how to get the seeds out as well as ten things to do with pomegranates.
Sally also made these yummy Beetroot and Walnut Muffins
Lauren from The Past on a Plate joined in with a second entry and a Blackberry and Apple Tray Bake
 Choclette from the Chocolate Log Blog made a very beautiful Chocolate Brown Betty – with two types of apples including a red flesh variety, orange chocolate, cinnamon and breadcrumbs over the top – how amazing?!
I joined in again and made these very easy Baked English Plums with Amaretto, almonds and Mascarpone.
Kate from What Kate Baked made a wonderfully vibrant Upside Down Plum Cake – I love plums so this was a close contender to the winner!
Kate over at Grazing Kate was very busy and joined in with Simple and Season with three wonderful recipes. Firstly, Kate made a gorgeous Blackberry and Mascarpone Tart  inspired by Jamie Oliver.
As well as this, a really lovely Award Winning Recipe Devon Apple Cake – perfect seasonal baking!
Kate also did some serious foraging for her Hedgrow Jelly – which included blackberries, crab apples, haws (from hawthorn), elderberries and rosehips (from wild roses) – I was very impressed!
Next, Shu Han from Mummy, I Can Cook made this awesome Five Spice Moist Apple Cake – for her birthday! How good does this look?! I'll definitely be trying it.
Philip from What's For Tea Tonight, Dear shared a savoury recipe as well as a sweet recipe for his Plum and Damson Crumble – mmn, off to buy some toffee vodka for this recipe!
Clare from The Vegetarian Experience also came back with her favourite pudding –  Apple Pie made with local apples – thanks Clare.
The lovely Nazima over at Working London Mummy made Apple 3 Ways for Babies and Toddlers – this is a really lovely post and congratulations to Nazima for also being included in Channel 4 Food's Best Family Friendly Food blogs.
And last but hopefully not least, I HAD to share a lovely recipe for Pear and Chocolate Brownies – perfect for National Chocolate Week, National Baking Week and just about EVERY other week!
THANK YOU so much for everyone for linking up – what an amazing selection of seasonal treats for us all to try.
Check back in tomorrow for a triple LEON Baking book giveway!