I have a slight obsession with chives and unfortunately for my husband who dislikes it, with dill. It stems from my Polish foodie upbringing as both herbs are used fairly extensively in Polish cooking. Chives are called  Szczypiorek and dill is called Koperek. Both can be grown easily and I tend to chop mine and freeze it too, so there's always some on hand. I used to get sent to school on a breakfast of scrambled eggs with chives (see the recipe here) or scrambled egg with Kielbasa, garlic sausage. With that fragrant combo it's a wonder I had any friends! Interestingly, last week I also went on my first guided foraging walk (more about that to come, I ate squirrel!) and we found some hedge garlic growing wildly, which is an alternative to chives, onion and garlic, so I'll be using some of that too, soon.
I love the combination of chives with cream cheese and also like to pair chives with locally produced British goat's cheese, as well as with feta. So this is a very quick omelette with feta and chives sprinkled in, but really, any crumbly white cheese would work.
[gmc_recipe 4354]
Neoflam Egg Pan Review
Making this omelette for breakfast also gave me an opportunity to test a new Neoflam Egg Pan I had been sent for review – the red pan in the photo above. I must say, I was impressed and my children have re-named it our "new eggy pan" as it's perfect for a small omelette for two (little people) or two perfectly fried eggs. There are larger pans in the range and here's why I like them – they are super non-stick (coated with a ceramic based coating so you need very little oil), they are very light-weight and they can be used in the oven. Price-wise I think for the quality, they are very reasonable, starting at  around £15.00 for the egg pan. I'm very much looking forward to parting with a few of my old frying pans to a jumble sale and adding a couple of these colourful pans to my collection. If I were buying one, which I will be doing soon, I would go for the slightly larger frying pan (24cm or 28cm bwteen £30-£35). The egg pan is nice to have for individual portions and it is lovely and dinky, but I think you could get better use out of a slightly larger one.
Fuss-Free Helen approves, too and is hosting a Neoflam Pan giveaway on her blog currently – you still have 12 days to enter! You can also find Neoflam UK on Facebook and Twitter (Neoflam_UK) to look out for more prizes. 
Karen over at Lavender and Lovage is collecting herby recipes for her Herbs on Saturday challenge, so I'm linking this post up to Karen.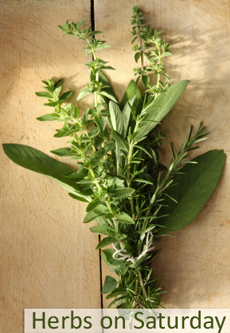 Helen over at Fuss Free Flavours is also hosting her own Breakfast Club this month, too with a Fairtrade theme, so I made this breakfast even more balanced by adding a Fairtrade banana and a freshly brewed up of Fairtrade coffee! 
Disclosure: I received the Neoflam egg pan for review with no other incentive or compensation to write about it, but I am very impressed with it, so am telling you about it.
What's your favourite herb to cook with? Any herby breakfast recipes in your house?!