More Diamond Jubilee inspiration! Although this time in the form of cupcakes, rather than posh trifles.
I seem to have been very busy baking cupcakes lately, so far I have baked close to sixty British-themed cupcakes and it isn't even the Jubilee weekend yet! I've had lots of fun experimenting with different toppings, decorations and accessories and there are more ideas to come, too.  
This post features a batch of strawberry cupcakes – a variation of my lemony cupcakes, using a good quality strawberry essence to flavour the cakes instead of vanilla essence and leaving out the lemon zest. I did also spot some freeze-dried strawberries in the baking section at the supermarket and they would work equally well sprinkled into the cake mixture.
I used a basic vanilla butter cream (beating together double the quantity of icing sugar to butter e.g 125g butter to 250g icing sugar and a tablespoon of milk) to pipe swirls of icing onto my cakes with a round nozzle. If butter cream is not your thing, you can also cut of small discs of ready-to-roll icing and pop those on top of your cupcakes too. If your cupcakes are peaked, simply slice the tops off. I usually dot a small amount of butter cream just to hold the disc of icing in place. There is no shortage of Jubilee-inspired sprinkles and toppers around. All of my decorations and wrappers were bought from either Lakeland, John Lewis or Waitrose.
As usual, the little chubby hands wanted a piece of the action…
A few strawberries, simply quartered and placed on top of some piped (or dolloped on) butter cream can look quite pretty, too.
And it's always a pleasure to dig out some plates, vintage and Jubilee crockery, pretty cloths and cake stands to create an impact!
Since my cupcakes are Jubilee-themed, I'm sending them across to Fleur at Homemade by Fleur who is hosting a Blogging Jubilee Baking Competition, sponsored by Appliances Online and judged by Vanessa Kimbell.
I was also inspired to add a special 'floral focus' with a few pretty sugar paste red and blue flower decorations so that they could join Karen's Tea Time Treats  table over at her lovely blog, Lavender and Lovage.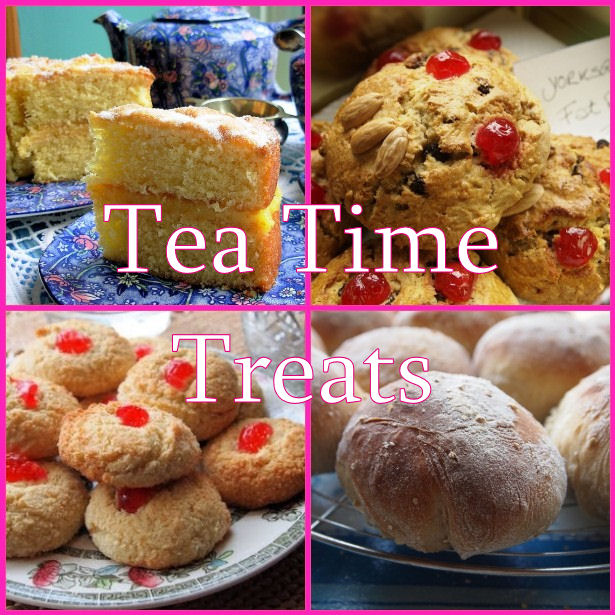 Hopefully there are some ideas here to inspire you all!
Have you caught the Diamond Jubilee baking bug?! Are you having a street party?