Another lovely month of family friendly recipes here. Thank you so much to everyone who linked up. There were a few favourites for me this month, bookmarked to make soon. Scroll down to see who won!
Here's the February round up:
1. Our first entry this month came from Fleur at Homemade by Fleur, a lovely blog full of very inspirational recipes and ideas. Fleur made a Bean, Pumpkin and Chestnut Chilli with a special secret ingredient which was…chocolate. Not just any old chocolate, 100% Venezuelan black cacao, as Fleur had created her recipe for Choclette's vegetarian chocolate challenge. Thank you Fleur for linking up.
2. Our next entry was from Nelly's Cupcakes who made a really beautiful Left Over Stew Pie for Sunday Lunch. I loved this pie – look how beautiful it is –
3. Jenny from Jenny Eatwell's Rhubarb and Ginger made Turkey and Chorizo Meat Balls on Pesto Spaghetti. I can just imagine that this dish was bursting with flavour! Thanks Jenny –
4. The lovely Jayne who blogs at Jaynerly made a great Vegetarian Sausage Casserole with garlic and thyme- yummy!
5.  Domestic Goddesque linked up her really sticky and delicious looking Monkey Bread – using 'Jus Roll' Bread Rolls and making her own caramel. Thank you for linking this up and showing us all how to make it.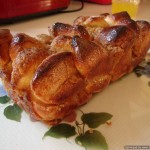 6. The Aga Girls up in bonnie Scotland linked up her American Fruit Pancakes piled high with maple syrup, raspberries and blueberries to feed a crown in their flat. Thanks Aga Girls for sharing your birthday breakfast!
7. As well a busily hosting her very first blog event called Bloggers Scream for Ice Cream, the lovely Kavey at Kavey Eats made delicious Pommes de terre Braytoises – Cheese and Ham Stuffed Potatoes adapted from a wonderful book by Diana Henry called Roast Figs, Sugar Snow. Thanks Kavey – our family would love these so we can't wait to try them. 
8. I shared a quick and simple recipe for pancakes with Banana and Maple Syrup for Shrove Tuesday – but really, these are good on any day of the week!
9. Sarah over at Maison Cupcake who has been busy writing her first book shared her recipe for Marmalade Bread and Butter Pudding. We have a few Paddington Bears in our house who would enjoy this pud!
10. I popped back with a Quick and Easy Tuna Fish Pasta dish – always a winner in our house and it did make us all feel better!
 11. Fellow local blogger Clare from The Vegetarian Experience linked up her family friendly Tomato CousCous Bake – a really unusual dish that Clare had learnt on a vegetarian cookery course. I could just tuck into this now!
12. Clare also linked up another great vegetarian family recipe a Sticky and Sweet Vegetarian Sausage Stew – this one really got my taste buds going –
13. Katie from Feeding Boys and a Firefighter linked up a really great recipe, her Creme Fraiche, Lemon and Pea Linguine with Soya Meatballs – my tummy is actually rumbling looking at this! Thanks Katie – 
14. And to round-off, Jessie from The Crazy Kitchen linked up a great recipe, a clever Butternut Squash Cake with Cream Cheese Frosting. Sounds wonderful, looks wonderful! Jessie also hosts an event called Cooking with your Toddler and did a great job of improvising by blending cottage cheese to make the topping.
And the winner of the signed copy of the My Daddy Cooks book by Nick Coffer is….drumroll please…Jenni from Jenni Eatwell's Rhubarb and Ginger's Turkey and Chorizo Meat Balls on Pesto Spaghetti – because that's what we're going to eat tonight! I love the idea of red pesto with spaghetti and adding chorizo to the meatballs for a great 'feed-a-crowd' supper!
Thank you to everyone for entering this month. Look out for a new linky soon!