Welcome to the Simple and in Season January Round-Up on Fabulicious Food! January seemed like a long month. I have no idea why, but it did. I've been longing for the weather to warm up, so we can walk/scoot to school instead of having to de-ice the car and avoid ice patches, but now snow is forecast! I'm sure this is why this month has been about comfort food and food that brightens up our day or keeps us warm!
I've really enjoyed all the January entries – thank you so much for taking part. We had a perfect mix of soups, salads and cakes to inspire us in our kitchens. Here's a round-up of all your seasonal offerings…the winner of Valentine Warner's book The Good Table is announced at the end.
I opened up the round with my warming Golden Leek Soup…which can easily be made with affordable British veg or the contents of a seasonal veg box.
Marie from The English Kitchen made this really sunning Pumpkin Spice Cake, which Marie described as "flavourful and low in fat." It can also be made in a bundt tin or in two loaf tins. Yum! Beautifully decorated too.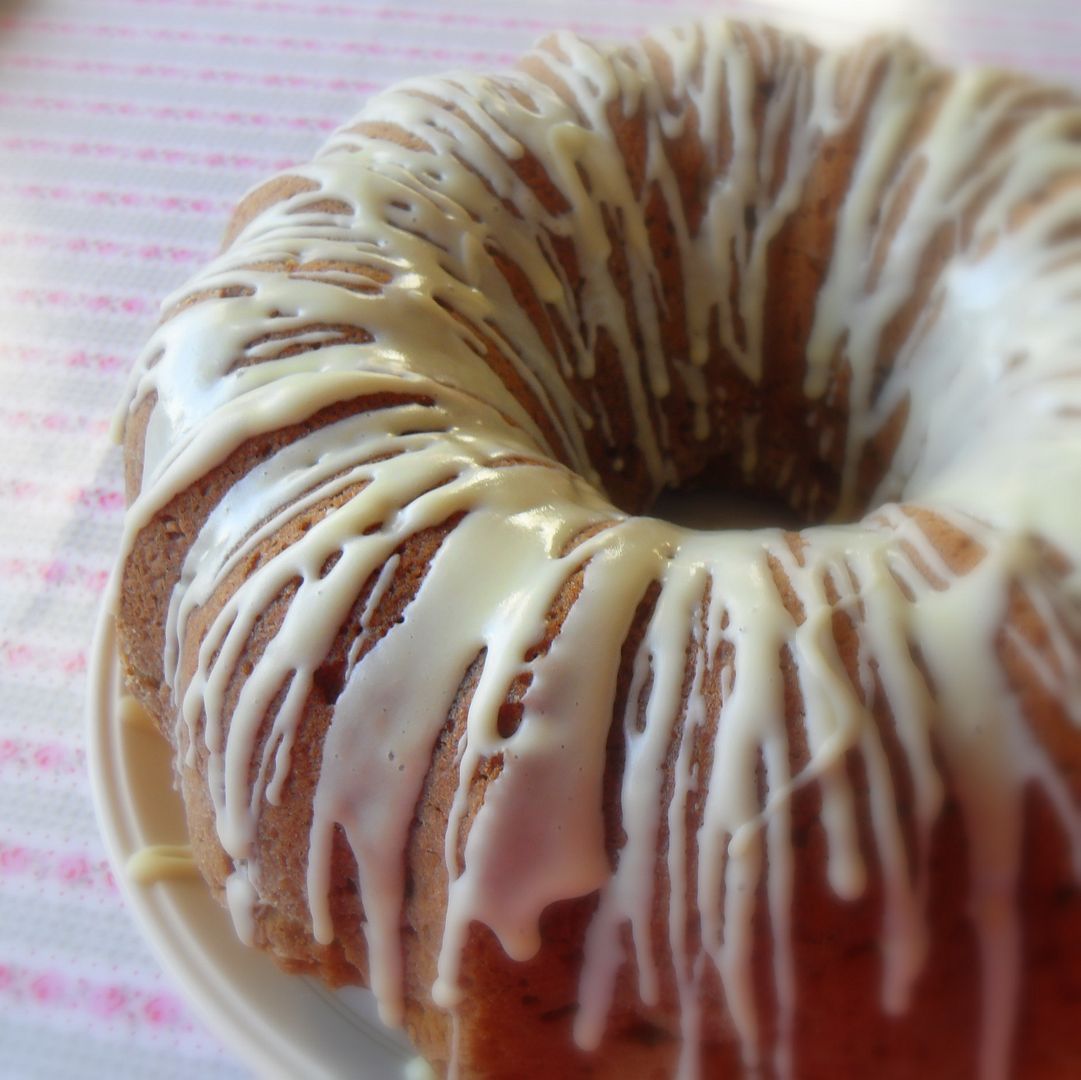 Janet from The Taste Space sent over a super-healthy Almost Raw Asian Kale and Edamame Salad. Kale and edamame are becomming more readily available in the UK now, so some of you may enjoy trying this!
Janet also linked up this Crunchy Cabbage Salad with Orange-Tahini Dressing, bringing traditional coleslaw bang-up-to-date. I love tahini dressings and I think orange would give it a really lovely zing along with the sweetness of maple syrup and the mellowness of tahini.
Next, Laura Loves Cakes made a really tasty-looking Rhubarb and Custard Cake, using some seasonal forced rhubarb, which I am actually yet to cook with this season. Laura definitely inspired me to go out and find some.
After that, Sheelagh from An Irish Village Pantry made this intriguingly-named Country Blood Orange Marmalade or Scooby-Doo Vampire Jam. The second part was what the children called it! Thank you for entering – there are some great step-by-step photos there too.
Next, we went from bright orange to bright green with Jaynerly's Healthy Green Soup! It's made with potatoes, spinach leaves and kale – perfect for a winter boost! Thanks Jayne.
Then we had one of my favourites, Caroline from Caroline Makes…sent over a Chocolate Beetroot Fudge Cake. I have tried chocolate-beetroot cake quite a few times now, and I always find it to be so moist, this one is no exception and would be lovely for Valentine's Day…Thanks for joining in Caroline.
After that, Ros, who blogs at The More Than Occasional Baker tempted us with Nigella's Clementine Cake. It is a cake that I have tried before myself, and I can confirm it is wonderful! The clementine cake also marked the start of Chinese New Year, as oranges are symbolic of good fortune in China and is gluten free – double bonus! Thanks Ros!
Back to something savoury now, as Janet from The Taste Space came back with a very virtuous Roasted Beet, Orange and Brown Rice Salad with an Orange Sesame Vinaigrette. Delicious! I love how Janet always comes up with really interesting dressings, don't you?
Then we had a really interesting entry from the Fun & Food Cafe, an Eggplant (Aubergine) Curry called Baingan Bharta. Now, what I loved about this was the texture, which came from pressure-cooking the eggplant/aubergine. This is definitely one I'll try. Thanks for joining in!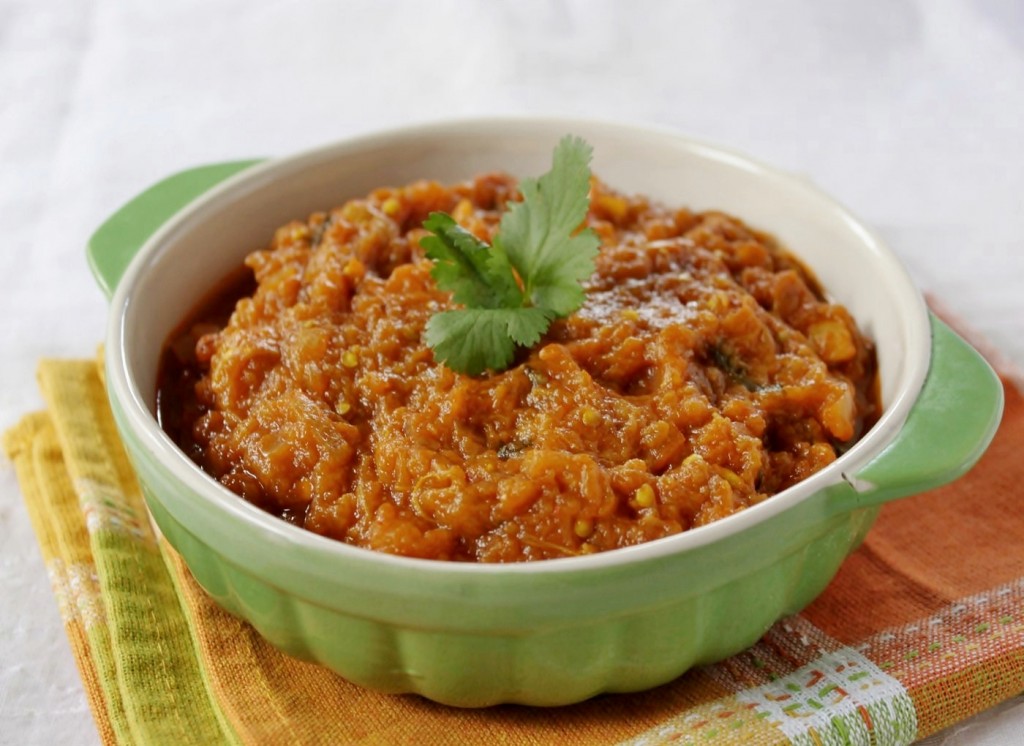 Next, the lovely Karen from Lavender and Lovage linked up from her sparkly new and updated blog with these wonderful Welsh Vegetarian Glamorgan Sausages. Karen made these using seasonal leeks, Caerphilly cheese, herbs and breadcrumbs and they really do look brilliant! Thanks Karen, I'll be making these for supper very soon. Great photos too, Karen.
I continued with the cheese and leek theme, this time making a quick variation on cheese and toast with these Cheese and Leek Toasties from River Cottage Veg. Tasty, but not as good as Karen's bangers!
Next, the very lovely Choclette from The Chocolate Log Blog sent across these Top Tea Cakes with Fresh Cranberries, a recipe from Dan Lepard's Short and Sweet. Choclette used up lots of candied lemon and orange peel as well as adding fresh cranberries and white chocolate for the perfect tea-time treat! Do check out Choclette's blog which is packed full to the brim with great chocolate-themed recipes.
Karen then came back with this wonderfully romantic meal for two, a very French Pan-Fried Duck Bread Salad with Mixed Berries and Walnuts. Karen, this may well be on my Valentine's Evening menu. Watch this space! I love the way that Karen's writing is really bursting with life. If you are a vegetarian, "Karen suggests that you ditch the duck and add some suitably sexy goat's cheese to the platter." Great photos again, darlink!
Laura from How to Cook Good Food graced our tables with her Teriyaki Salmon with Stir-fried Greens.  Yum, yum, yum is all I can say – this is my perfect supper! Thanks Laura, lovely marinade too.
Richa from Seattle who blogs at Hobby and More sent across two recipes for us to try. The first one was  Turnip with Indian Spice Mix. I've never tried Indian Five Spice so will definitely be giving this a go. Great photo too.
Richa also sent across a second recipe, this time bringing us full circle with her blended Carrot, Leek and Parsnip Soup. Next time, I'll try blending my leek soup to see what happens. I love the addition of parsnips and a Cajun spice blend which must have really warmed-up a snowed in Richa!
So, there we have it. A great selection of seasonal entries to beat the January blues. All of them enticing and inspiring. I'm pleased to declare that the winner is Laura Scott  from How to Cook Good Food. I loved how Laura introduced a relatively under-used, seasonal veg such as kale, to a soy, mirin, ginger and lime for a truly delicious and quick supper. A copy of Valentine's book is on its way to you!
Thank you so much to everyone who joined in and linked up, a new round will open very soon!