Over the summer, I have developed something of an addiction to the new Cornetto Enigma (Chocolate and Caramel flavour) by Wall's Ice Cream. Under normal circumstances during the holidays, if we are out and about and happen to see an ice cream van, my ice cream of choice would have always been a Magnum – the bigger the chocolate hit the better. However, since being introduced to this little number, I am now converted and boxes of these have even found their way into my home freezer.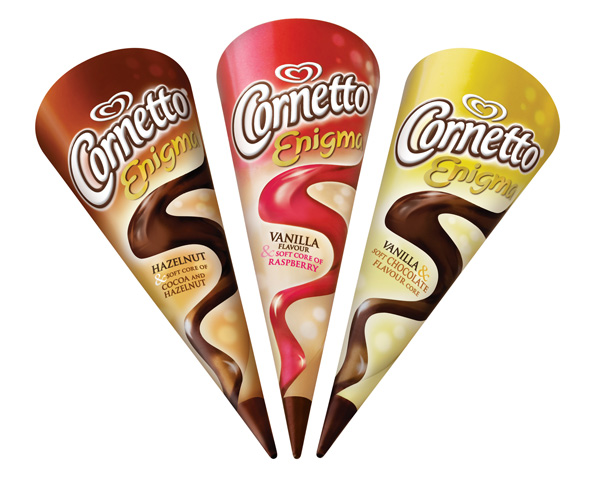 Cornetto is still the UK's number one branded ice cream in a cone although Magnum is the number one impulse ice cream brand in the UK. I do like the word 'impulse'. Both have had something of an upgrade. The Cornetto Enigma (Chocolate and Caramel) has the same soft ice-cream on the top, drizzled with chocolate sauce, but now the inside of the cone is also filled with caramel sauce and chocolate all the way down to the chocolate filled tip. Other new flavours include Vanilla and Chocolate and Vanilla and Raspberry, both also filled through to the tip.
The are available to buy individually (a single Cornetto is around £1.25 RRP and a pack of four is £2.57 RRP). Warning: they are a bit addictive.
If you are more of an
ice cream on a stick fan
, then look out for the new
Magnum Ecuador
and
Magnum Ghana
. These are the first Magnum ice creams to be made with specially selected cocoa beans sourced from Rainforest Alliance Certified
™
farms. See
http://www.rainforest-alliance.org/
for more information about the programme for sustainable forestry and agriculture. It's good to see that Magnum/Unilever are taking steps to ensure the sustainable sourcing of its core ingredients.
The Magnum Ecuador is made with 62% thick dark chocolate, vanilla ice cream and dark chocolate swirls whilst the Ghana is made with 32% milk chocolate, yummy hazelnut ice cream and milk chocolate sauce. Both are also a little bit tasty.
Thank you to Unilever/Wall's Ice Cream for sending me the ice cream vouchers to sample these products.