I don't very often have packets of puff pastry sitting in the fridge, which is a good thing. However, I had been meaning to try a recipe from Nigella Express for some time called 'Nectarine and Blueberry Galette' and so a packet was bought and earmarked. The disappointment was that my nectarines were not yet at their best and so were quite tart. Too tart for a tart, even. They would have required so much sugar that they would have made the pastry look much less calorific in comparison. But, I did have some British strawberries that were slightly better, so I used those instead with strawberry jam in place of apricot conserve. I also wanted to make mini versions, suitable for an afternoon tea. And so, these tasty Summer Fruit Tartlets were born. They were easy to make, too.
Here's how to make them…
First, pre-heat your oven to 200 degrees Celsius. Then take a packet of ready-rolled puff pastry. Lay the pastry out on a cutting board sprinkled with icing sugar. Cut the pastry into smaller rectangles. I got eight out of one packet. Then carefully transfer the tartlets onto a flat baking tray lined with baking paper. Using the tip of a sharp knife, score a smaller rectangle about one cm from the edge, making it look like a picture frame. Don't push the knife all the way through the pastry. Heat up a few tablespoons of strawberry jam in the microwave or in a pan for a few seconds to soften it and using a pastry brush, paint the inside of the rectangle.
Carefully pile some fruit in the middle of the tartlets. I used strawberries sliced in half and a few blueberries for each. You could use nectarines and blueberries, as Nigella does, or any combination of fruit that you like.
 Sprinkle over some brown Demerara sugar.
Place the baking tray into your pre-heated oven and bake for 10-15 minutes. Take them out when the pastry has browned in colour and risen.
Pile them up onto a pretty plate or cake stand and sprinkle with icing sugar.
Pour over lots of cream and enjoy!
I'm sending these tasty treats to three blog events, if I'm still in time!
Firstly, to Fleur over at Homemade by Fleur who is hosting Sarah's Forever Nigella this month with a theme of Afternoon Tea.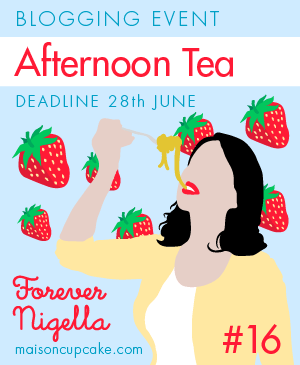 Secondly, to Nazima at Working London Mummy who is hosting the One Ingredient Challenge jointly with Laura from How to Cook Good Food with a theme of Strawberries.
Thirdly, to Kate at What Kate Baked who is hosting Tea Time Treats  (co-hosted with Karen of Lavender and Lovage) with a theme of Summer Fruits!
Have you got any puff pastry, fruit and cream in your fridge?! Go on, you know you want to make these!