Thank you to everyone who left comments for myself and my sister Wanda on my first Blogoversary! Wanda was greatly encouraged and (I hope) enjoyed writing her first post and sharing her wonderful recipes from Italy.
Today, I wanted to tell you about a cake I made recently, which was a big hit both with my family and at the BBC Three Counties Studio where Nick (My Daddy Cooks) introduced me to the iconic Becky Wiggins (English Mum), foodie and new blogger Christian Carden-Maund (Big Mad Cookery Dad) and wine expert Charles Bennet.  I had made a big tray of cake the night before and so took some of it into the studio, but it's also perfect for Bonfire Night so I will definitely be making it again. Everyone was very kind and said that the cake was yummy. I had a blast listening to the show and meeting English Mum, and I was able to do my weekly 'Ren Reccommends' slot live which is always fun! The theme was 'frugal food' – Becky's lamb meatballs and gooey chocolate fudge brownies were to die for and Christian made a great family supper made from leftover roast chicken, mushrooms, sherry and a cream sauce served with a mashed potato gratin. You can find the recipes on the fact sheet here (half way down the page on a red link) and English Mum's fab write-up of her experience here. A happy day all around! 
Anyway, back to the cake. I had spotted it from a mile away on the November cover of BBC Good Food Magazine and was pleased to see that it was, of course, one of Sarah Cook's recipes. Sarah has also been a great guest on Nick's show in the past and though I missed her in the studio, I was looking forward to meeting her on a Food Styling Course at Leiths School of Food and Wine . Sarah is the Deputy Food Editor at BBC Good Food there really isn't much that she doesn't know about food. What I don't think I really appreciated is that it is the Food Stylist on a shoot who shops for, prepares and then cooks all the food. They are usually helped by a Props Stylist and perhaps an assistant and they work together with the Food Photographer to create the shoot. Sarah is also a Leiths Diploma graduate and as such, now runs her Food Styling courses there.
This week we had the opportunity of styling our own Greek Salad in the kitchen at Leiths under Sarah's watchful eye. It was pretty amazing to see how twenty students can come up with twenty very different and unique ideas with a basic selection of fresh ingredients. We're now half way through the course and at the end we get to style our own food and have Stuart Ovenden, a BBC Good Food photographer, take a professional photo of our food for our portfolio. Eek!
Anyway, at the risk of looking like teacher's pet, here's my take on Sarah's wonderful Spiced Toffee Apple Cake. It's so good that I have made it twice now and I'm making it again this weekend for Bonfire Night. You make the cake batter, which involves softening a few pitted dates in milk before pureeing them and mixing them with the rest of the cake ingredients.  After that, you place finely sliced red apples over the top of the batter. When the cakes cooks, the apples cook too but keep their lovely shape and colour when baked.
Once the cake is cooked, you can drizzle it with Sarah's quick toffee sauce, which you make by melting toffees in a pan with a splash of milk or, do as I did, and buy one! I actually spotted a sea salted caramel sauce at the shops that I quite fancied, so I just warmed that up and poured it over the top.
Sarah's Spiced Toffee Apple Cake recipe can be found here on the BBC Good Food Website. It's a great way of using seasonal autumnal red apples and I just made one other minor change which was that I used cinnamon in place of the mixed spice. I think it's the clove aspect of mixed spice I'm not fond of, so next time I will be taking Karen up on her idea of blending my own mixed spice.  
As this cake makes a perfect tea time treat, I'm sending this post across to an exciting new blog event, jointly hosted by Karen at Lavender and Lovage and Kate at What Kate Baked called the  Tea Time Treats event  – to which we are all cordially invited!  The theme this month is Ginger or Bonfire Treats. There's plenty of time to join in and don't forget to look out for the round-up which this month will be posted by Karen. As I used autumnal apples, I'll also be linking it up to Simple and in Season here at Fabulicious Food!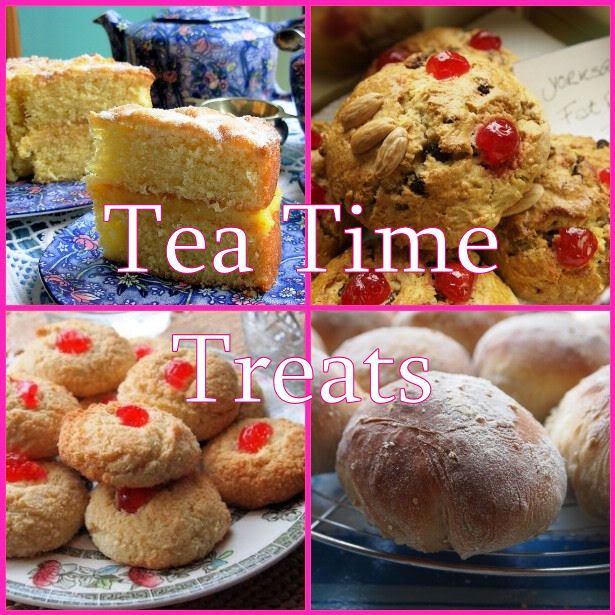 I hope you enjoy Sarah's cake too. Let me know what you're cooking up for Bonfire Night!