You can listen to the winner's announcement here…scroll down for the round up!
Well, our 'Summer of Sport' has drawn to a spectacular close. The Paralympic Closing ceremony this week marked the end of a highly successful London 2012, whilst British tennis player Andy Murray went on to wrap things up very nicely with his first grand slam win in the US open.  The world has watched and celebrated, we've all been glued to the sporting activities and achievements of our nations. I was personally amazed and inspired by the level of dedication and stamina shown by the athletes, the sportsmen and women, the volunteers and by the capabilities of the human body, particularly during the paralympic games. It has truly been phenomenal.
Our favourite photo taken at the London 2012 Opening Ceremony
There was lots on offer food-wise and I hope that any visitors to London were impressed with what they were able to find (MacDonalds aside).
In our homes, there were certainly plenty of very fun and very creative 'Sporting Snacks' on offer. Here's a round-up of everyone who linked up to the Sporting Snacks Event here on Fabulicious Food! over the summer. The winner of the Hotel Chocolat Hamper will follow.
1. To kick things off, Karen from Lavender and Lovage made these Low-Fat Vanilla Bean Scones for her Wimbledon-themed Cream Tea. Karen's scones are so yummy that she says they would be whipped off the plate 'as fast as an ace tennis player's serve!' I have no doubt that they would, especially with lashings of clotted cream! Thank you Karen.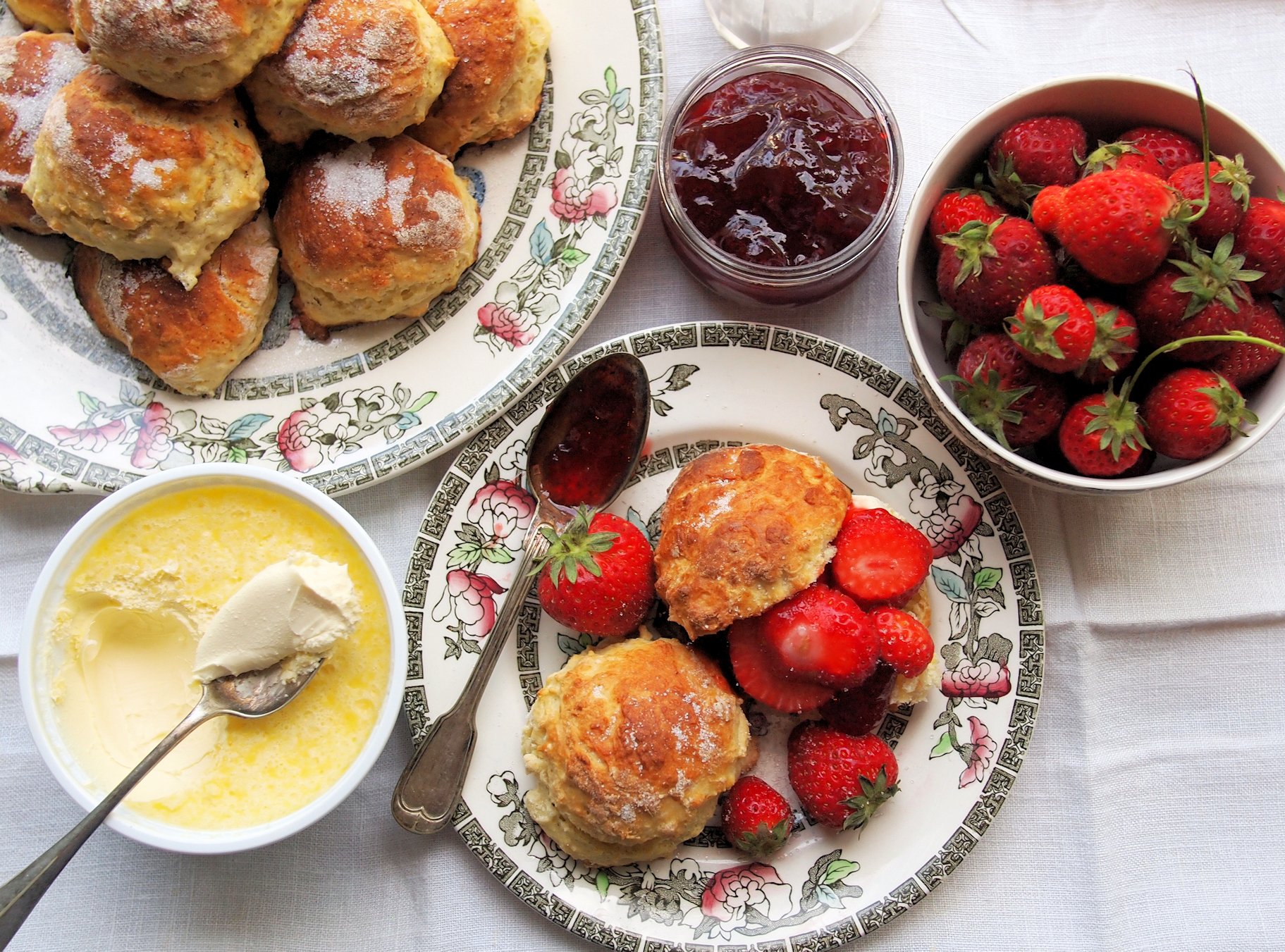 2. Sweetharts Cakes and Bakes made these equally lovely and very 'Wimbledon-esque' Mini Strawberry and Cream Tarts – thank you Paula for joining in!
3. The very gorgeous Carmela Hayes from Carmela's Kitchen made some Wimbledon Jam in her Italian Kitchen made with summer fruit and Pimms – yummy! 
4. Becky, from her brilliantly written blog Mint Custard really got into the spirit of things. Firstly, with her Andy Murray Mint Slice -hooray!
5. Becky from Mint Custard also made these very fun Olympic Torch Cupcakes in honour of her other half proudly running with the Olympic Torch!
6. I linked up with some Easy No Churn Ice-Cream – we were all so busy and fixated watching the games that I thought a simple-to-make snack would be fun!
7. Becky from Mint Custard came back to us with her imaginatively named Compost Cookies – or 'What to do with the left over snacks from the Opening Ceremony!'
8. Janice from FarmersGirl Kitchen who regularly keeps us all entertained on Twitter made these fantastic Gold Medal Muffins cleverly using wrapped crisp chocolates for the medals!
9. Janice from FarmersGirl Kitchen also gave use some extra ways to find stamina for all our spectating with her pretty and healthy California Prune Energy Bars.
10. The ever-busy Sarah from Maison Cupcake made these scrummy Sausage and Lentil Mini Pies – perfect little sporting morsels (with great step-by-step photos, too).
11. Another blog I love reading is called Home Made By Fleur, written by Fleur and for Sporting Snacks Fleur made some fun Wenlock and Mandeville Gingerbread Men – I'm sure Fleur was a very popular Mummy that day! Fleur and I also almost has identical seats at the Olympics as we both had similar photos of exciting handball matches!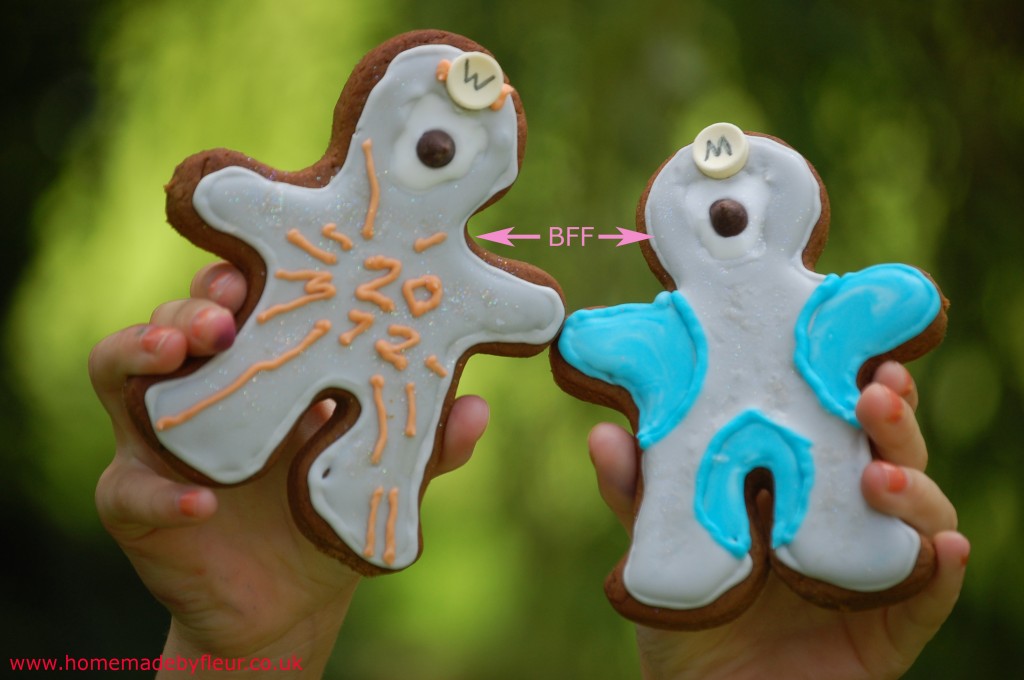 12. Ooh now, our superstar blogger and Olympic Opening Ceremony Volunteer (woo hoo!) Kate from What Kate Baked made these delicious Nectarine Gold Medal Tarts  – thank you Kate both for the sterling job volunteering and for sending across your tarts!
13. Just when we thought things couldn't get any more exciting or imaginative, Ros, The More Than Occasional Baker made these super cute Olympic Ring Mini Cake Doughnuts – baked in a donught tin I'll be keeping my eye out for.
14. If sweet snacks didn't take your fancy, Kellie from Food to Glow gave us all the brilliant idea of making this Prawn, Pepper and Parsley Pesto Pizza with Chilli Chard – more in-keeping perhaps with the idea that the Olympics would inspire us all to get fitter and healthier.
15. Jude who writes at A Trifle Rushed linked up her easy-to-make Crab Cakes from France, perfect snacks to make in advance whilst watching the sport. One more onion ring would have made an Olympic Rings salad! 
16. To the theme of easy make-ahead sweet treats, I made a No-Bake Chocolate and Amaretto Cheese Cake Slice – an iced glass of Amaretto on the side wouldn't go a miss with this one.
17. Gill at Tales of Pigling Bland made this very impressive Olympic Veldrome Cake – love, love, love it – complete with little mini cyclist!
18. More impressive baking and creating from Gill at Tales of Pigling Bland with these very sweet Tennis Ball Cake Pops – filled with chocolate cake for a double gold.
19. And going for the triple gold, Gill at Tales of Pigling Bland also made Olympic Torch Popcorn – very clever since you can eat the whole thing!
20. Caroline from Cakes, Crumbs and Cooking linked up her Nigella-inspired Cherry Chocolate Fudge as her ideal Sporting Snack, using cherries in place of pistachio.
21. Jagruti from Jagruti's Cooking Odyssey made these Cricketlicious Cuppucino Swirls – great name and the perfect family snack to sit back and watch a nice game of cricket with.
22. And what a way to end this wonderful round up – the very beautiful Ceri from Cucina Ceri made these stunning Union Jack Cupcakes. Ceri's blog really is a blog well worth reading and visiting – there is a clever healthy twist to all of Ceri's recipes. These cupcakes, for example, are made ingredients including coconut flour and coconut oil, a pinch of Himalayan salt, organic honey and organic cream cheese.  Mnnnnn!
I have no idea how Nick Coffer from My Daddy Cooks is going to pick a winner, but the result will be announced in the next 24 hours so watch this space!
Thank You
A really big thank you to everyone who got into the spirit of things whether with healthy snacks, easy snacks or Olympic-inspired treats – it was great fun!