I love making a big pan of soup that uses up lots of ingredients from my store cupboard or leftovers. This chorizo, chicken and chickpea soup ticks both boxes.
The inspiration came to me via Dom's Random Recipe challenge. This month, we were tasked with selecting a cook book from the shelf to correspond with our birthday date. My birthday is 15th of March, so I picked out the 15th book, which was Ros Dobson's Whole Food Kitchen. Appropriately for 'Random' Recipes, I remember finding this book in a clothes shop sitting beside a large pile of winter clothes as part of their display. I didn't buy any clothes, but they did sell me the cook book. You can see that my priorities do not lie in fashion!  
Anyway, I flicked open the book to page 41 where I found two recipes – Creamy cannellini, leek and sorrel soup or Smoky chorizo and haricot bean soup. Although they both sounded delicious, I had more chance of finding the ingredients for the chorizo soup in the kitchen, so went with that one.
As with all good cooking adventures, I departed from the list of ingredients. The basic recipe calls for chorizo sausage, red onion, garlic, Spanish smoked paprika, chopped tomatoes, chicken or vegetable stock, haricot beans and flat leaf parsley. 
I didn't have haricot beans or Spanish smoked sweet paprika, but I did have a packet of diced smoky chorizo and a tin of chickpeas. I also found a bag of spinach  to use up, a couple of carrots and some leftover roast chicken. For extra texture, I sprinkled in some giant wholegrain cous cous, too. A one-pot meal, bursting with flavour.
Along with some garlic bread, it will make the perfect fodder for keeping warm whilst watching the fireworks in our back garden tonight.
Here's how I made it:
Chickpea, Chicken and Chorizo Soup
Adapted from Ros Dobson's Whole Food Kitchen
Original recipe – Smoky Chorizo and Haricot Bean Soup
Ingredients:
1 tablespoon olive oil

150g/one cup smoky chorizo sausage, cubed

1 red onion, chopped

2 carrots, peeled and grated

2 cloves garlic

400g/one  tin chopped tomatoes or passata

750ml/3 cups chicken or vegetable stock

1 tin chickpeas, drained and rinsed (or use harricot beans or even lentils)

A handful/one cup leftover roast chicken, shredded

150g/one cup giant wholegrain cous cous

160g bag organic spinach

A handful of fresh curly parsley
Method:
Heat the oil in a large pot, add the chorizo sausage and fry for a few minutes. Once crispy, take out a little bit of chorizo to garnish.

Add the red onion, carrot and garlic to the pan and fry for another few minutes until the onion softens.

Add the tomatoes, stock, chickpeas, leftover roast chicken and giant cous cous. Cook for around fifteen minutes on a gentle heat, stirring occasionally.

Add the bag of spinach and stir through until wilted. Take off the heat and sprinkle over the parsley and some of the crispy chorizo.

Serve while piping hot, enjoy!
As well as linking this up to Random Recipes, I am also sending this across to Karen's Herbs on a Saturday challenge, too as I love adding curly parsley to soups!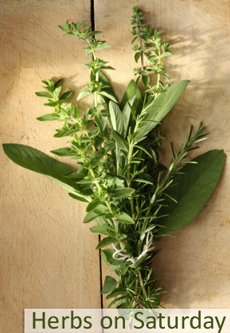 Don't forget, Simple and in Season is back home this month, you can link up here.
Any 'random' clothes shop cookery book purchases on your shelves?!