Here we are again, after rounding up the first half of the Simple and in Season Winter entries, we're back with Part Two for more seasonal adventures. This time, the theme is definitely orange, with plenty of butternut squash, pumpkin and plenty of fresh, seasonal autumnal cooking…
21. Just past the half-way mark, Wonder Woman I am Not, sent across her Pecan Topped Sweet Potatoes. Unfortunately, there was no picture with the post, but I'm sure we can all imagine the luscious sweetness and the recipe is on the blog.
22. Janet at The Taste Space came back to us with a White Bean, Quinoa and Kale Stew with Fennel. I'm always looking for ways to cook kale so this is bookmarked.

23. Next, Choclette, over at the Chocolate Log Blog made Pumkpin Butter – which Choclette was intending to use in some of her wonderful chocolate recipes – thank you for sharing!
24. Sweet Tiny Blessings (Mandy in Colorado!) joined in for the first time with a Mexican Chicken and Bean Pizza – thank you so much for joining in. This is made with beef (in place of chicken), garlic, cumin, pinto beans, fresh avodaco, fresh tomato, sour cream…the works! AND it's a Weight Watchers.com recipe if anyone is weight-watching. Also bookmarked!
25. Clare from The Vegetarian Experience made a wonderfully seasonal Pumpkin Risotto or Risotto di Zucca, which was part of a series of pumkpin recipes on her blog. Thanks Clare! I had problems with the photo, so below is a photo for Clare's Stuffed Pumpkins instead.
26. More loveliness from Janet at The Taste Space, this time a Dragon Quinoa Bowl with Roasted Vegetables and a Miso Gravy. Who needs meat? This is quinoa, topped with zucchini (courgettes) bell pepper, eggplant (aubergine) and brocolli and cubed tofu, topped with a rich miso gravy, sesame seeds and spring onions. Health in a bowl I'd say!

27. Helen from Fuss Free Flavours linked up her Maple Cumin Mash, that she had served with an Asian Beef Wellington – a dish simply packed with flavour and perfectly cooked beef too. I have sweet potatoes, I have carrots, I have cumin, I have maple syrup…I will be making this!
28. Richa in Seattle from Hobby and More joined in with a salad of Roasted Delicta Squash, with Rosemary and Olive Oil, which was gluten free and vegan. Delicious – thank you!
29. Richa also linked up her family recipe for Green Beans with Potatoes – also vegan and gluten free –
30.  Clare from The Vegetarian Experience also linked up her Pumpkin Pie recipe inspired by lots of trips to her Dad in the States – thank you! Again, so sorry, struggling with a photo!
31. The Space Taste came back again with another seasonally-inspired dish, this time a Lime-Spiked Black Bean and Quinoa Wrap
32. Shaheen from Allotment 2 Kitchen made a Brussels Sprout and Blue Cheese Tart inspired by a Brussels Sprout tree.
33. Laura from How To Cook Good Food made these gorgeous little Chestnut Pasties with Sour Cream Pastry and Pickled Cabbage – perfect party food – perefct for anytime.
34. Nazima from Working London Mummy linked up her very scrummy Butternut Squash Soup with Garlic Crostini and Parmesan. We are definitely going to make this, we love butternut squash, we love garlic bread, we love Parmesan!
35. Michelle from Food, Football and a Baby joined in with her take on Mary Berry's Devonshire Apple Cake. Apart from chocolate cake, I think apple cake takes second place and I love this one! Also made with apples from her neighbour's garden. Thanks Michelle for sending this across!
36. Michelle also came back with Grandma's Apple Sauce and Cocoa Cake (with Coffee Glaze) – also inspired by a glut of apples from her neighbour's garden.
37. Clare from The Vegetarian Experience linked up again, this time with her Pumpkin Soup – great colour and a very lovely swirl!
38. Another new blogger to join us was the Fun & Food Cafe who made these delicious Pumpkin Pie Dessert Bars – mmn these look amazing!
39. The Fun & Food Cafe also served us Leftover Cranberry Sauce Muffins – since I have a whole load of leftover cranberry sauce, I'll definitely be making these!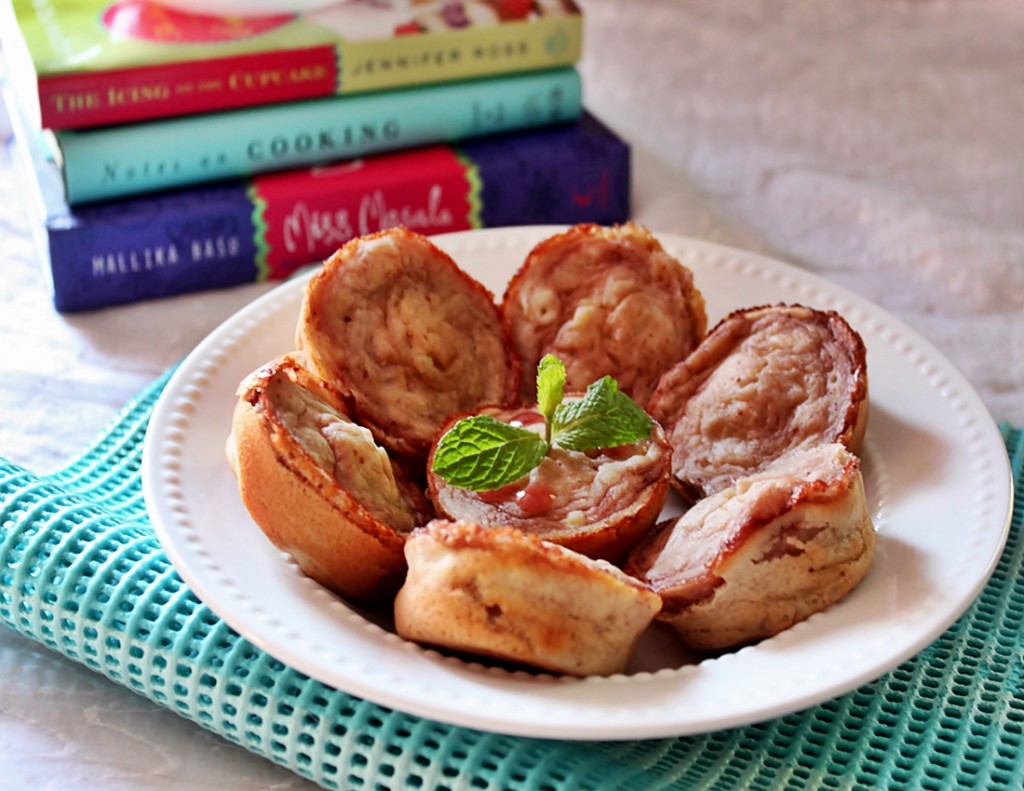 40. Last, but hopefully not least, I linked up Our Favourite Carrot and Parmesan Risotto, just to round-off our lovely autumnal orange-influenced Winter Simple and in Season! 
AND THE WINNER IS…
After much deliberation…the Simple and in Season Winter winner is Clare Rudd from The Vegetarian Experience for her series of Pumpkin-inspired posts! Clare shared her ideas for the many different ways of using seasonal pumpkin, including Pumpkin Pie, Pumpkin Soup and a wonderful Pumkin Risotto, leading to the Stuffed Pumpkin she made as an alternative to Christmas dinner on Christmas Day. Thank You Clare, a copy of Discover Organic Cook  Book is on its way to you. I hope there are plenty of vegetarian recipes in there to inspire you.
Don't forget to link up all your seasonal recipes now – the January link up is open until 31st January and you could win a copy of The Good Table by Valentine Warner.
Thank You to everyone for entering!