I love English cherries and I have just started to see some becoming available. I also have a fail-safe recipe for a traybake, given to me by my mother, which is so adaptable that it's the only traybake recipe you'll ever need. This recipe uses a glass of very mild oil, such as vegetable oil or a light olive oil instead of butter, which keeps the bake really moist and lots of eggs. It also just keeps on getting better each day and keeps well for up to five days, though I guarantee it won't last that long. A little while ago I shared a recipe for an Easy Rhubarb Traybake, essentially the same recipe, but this time I used fresh, seasonal cherries (halved and pitted) and just scattered over the batter. I also wanted to flavour it with almond, so used some almond essence and added 50 grams of ground almonds, too. As mentioned before, you can pretty much scatter and stone fruit over the top or some lightly stewed apples, in which case, replace the almond essence and sprinkle in a teaspoon of cinnamon. 
I'm also very excited about the fact that some of my recipes and photographs are being used away from my blog now! This cherry and almond traybake appears in The Jewish Chronicle this week, which is available at the supermarket and online. It's kind of funny as I actually don't have any Jewish heritage, but my recipes do have a seasonal angel, which the food editor very much likes and also I am learning how to adapt recipes to specific dietary requirements.  I think it is fascinating to celebrate and learn about other food cultures, which I am able to do, and particularly enjoy doing, through food.
Keep an eye out too for another of my Polish inheritance recipes appearing in Delicious Magazine in the September issue…more news about that shortly!
Seasonal Cherry and Almond Traybake by Ren Behan
Ingredients
225g caster sugar
4 large, free range eggs
240ml mild, light olive oil or vegetable oil
1 tsp almond extract/essence
Zest of an orange or lemon
200g self-raising flour
1 tsp baking powder
40g ground almonds
250g or a punnet of fresh cherries, pitted, sliced in half
Icing sugar to dust and serve
Instructions
Pre-heat your oven to 180°C. Line a square baking tin or tray (approx 20 x 20 x 5cm) with baking paper.
Beat the caster sugar and eggs together for five minutes, until pale and creamy.
Slowly pour in the oil and beat again. Add the almond extract and mix in well.
Grate in the zest of one lemon or orange.
Sift the flour and baking powder into the mixture and carefully mix (with a metal spoon, not mixer) until it is all combined.
Add in the ground almonds and carefully mix again. Pour in the cake batter. Scatter the halved cherries over the top and push down, leaving some of the cherries visible.
Bake in the pre-heated oven for 40-45 minutes, or until a toothpick comes out clean.
Dust with the icing sugar and cut into squares or slices. Serve warm or cool. Keeps well in a tin for up to five days.
I'm seding this recipe across to Simple and in Season, this month hosted by Fleur over at Homemade by Fleur.
I'm also linking it up to Tea Time Treats, hosted alternately by Karen at Lavender and Lovage and Katie at What Kate Baked. This month the theme is 'cake stall cakes' and this one always goes down well!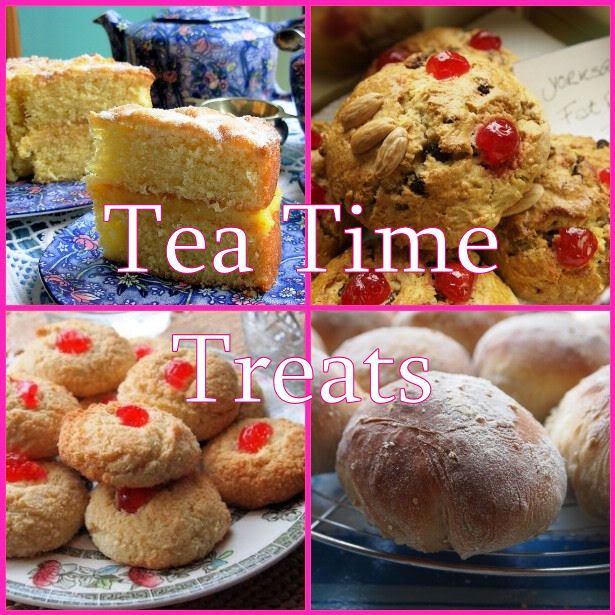 What seasonal treats have you been cooking up?